Families
Temple B'nai Brith invites families with kids of all ages to join our pluralistic community!
Along with our Sunday school for pre-K through 7th graders (with simultaneous adult ed opportunities), we host a range of family activities, including:
Monthly family Shabbat morning services
Potluck family Shabbat dinners
Pajama and Pizza Havdalah gatherings
All-ages Israeli Dance classes
Holiday celebrations including a Chanukah Party and Purim Carnival
High Holiday family services
…and more!
As an unaffiliated synagogue, TBB strives for a welcoming and informal atmosphere where families of all backgrounds and religious affiliations can build community, learn about Judaism, and connect with their heritage and spirituality. We aim to help our kids grow up with pride in their Jewish identity, knowledge and curiosity about religious traditions, and a commitment to social justice as a Jewish value.
Free Tot & Family High Holiday Service​s
Rosh Hashanah Saturday, September 16
Yom Kippur Monday, September 25
Family Services 9:30-10:45 am in the tent out back
Tot Services 10:00-10:45 am in the social hall
Registration required.

Monthly Family Shabbat Services
We look forward to being back together in the Fall.
​2023-2024
Nov 10, Dec 2, Jan 13, Feb 10, Mar 9, Apr 13, May 11, June 1
11:00 am in the Social Hall (on the Main Entrance level)
Join us for a monthly Shabbat morning service for kids and their families (siblings of all ages are invited to join)!
We will follow the order of a Shabbat morning service, learn parts of the liturgy, introduce the weekly Torah portion, and chant some of it too. There will be grape juice, challah, and a light kiddush lunch with the congregation afterward. Service is geared for preschool through third grade.
Summer is a great time to connect!
There are a few low-key family events planned for the Temple B'nai Brith community as we move back toward the school year and the High Holidays. Come to reconnect with friends, check out the TBB community for the first time, or anything in between.
Building Upkeep Project Day at TBB
Sunday, August 27 | 9:30 am - 12:00 pm
Older kids can help repaint the radiators in Nissenbaum Hall, which will have been scraped in advance.
Outdoor play/yard cleanup/maybe some other projects for younger kids.
No RSVP needed, drop by anytime to play or lend a hand!
Home-Hosted Shabbat Potluck
Friday, September 1 | 5:30 pm - 7:30 pm
To be held outside, weather permitting. We will send out the location closer to the date.
RSVP here (even if you are a maybe).
Congregation B'nai Brith Children's School Back-to-School Event
Sunday, September 10 | 10:00 am -11:30 am
The official first day of classes in the Sunday School is late this year (October 15) because the holidays are all on weekends, so this will be a time for new/interested/returning families to come together at the start of the school year. Stay tuned for more details of this event.
Tashlich at the Boathouse
2nd Day of Rosh Hashanah
Sunday, September 17 | 4:30 pm
or meet at TBB at 4:00 pm to walk to the Boathouse together
Blessing of the Bay Boathouse
32 Shore Drive
Somerville, MA 02145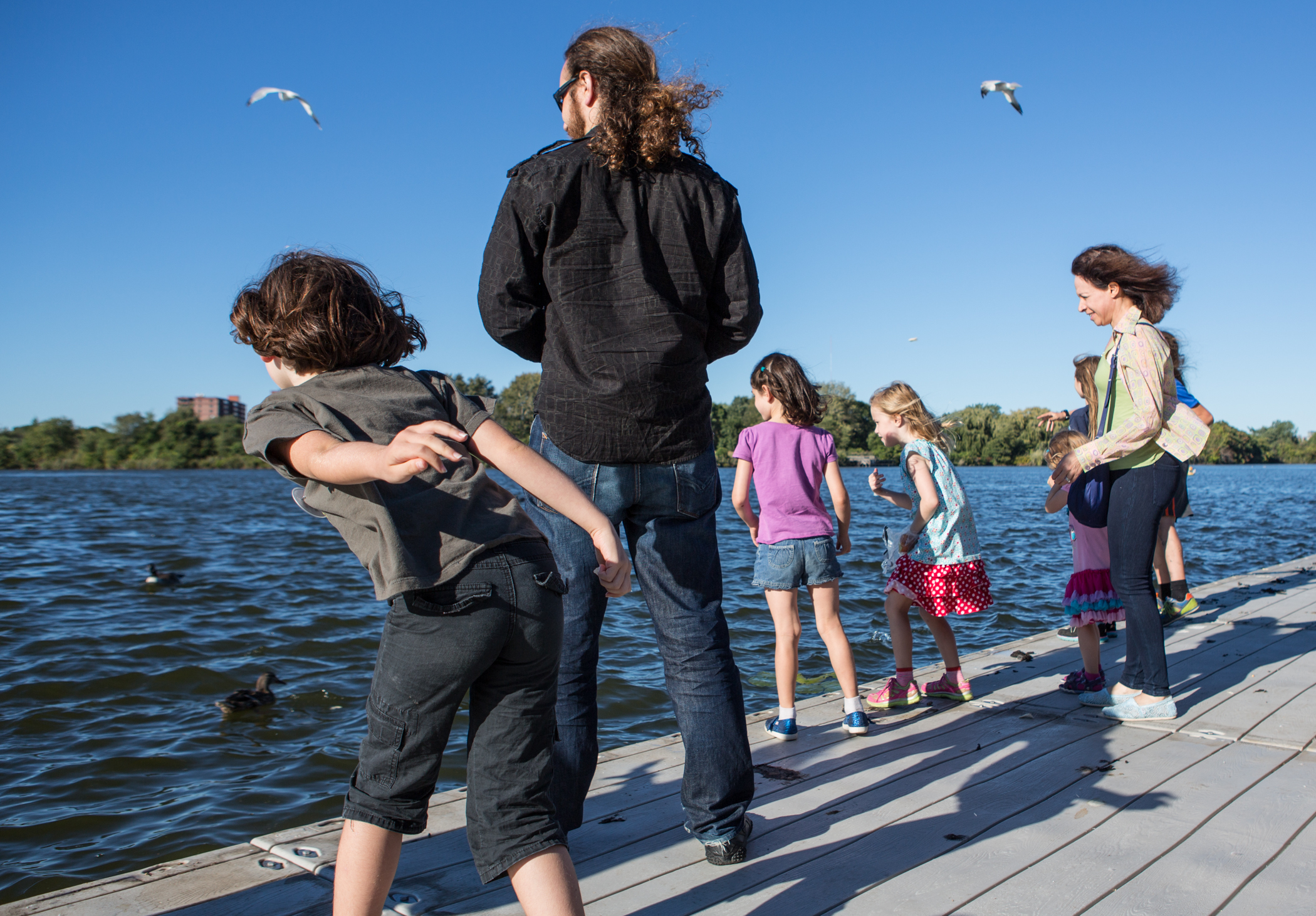 Community Potluck Fridays
​A great way to end the week with friends & food.
Open to all ages
Monthly, resuming with the Sukkot Potluck out back on Friday, September 29
Services at 6:00 pm
Food served immediately after (around 6:45 pm)
We will start with Kabbalat Shabbat Service in the sanctuary, followed by a vegetarian potluck dinner.
Join us for one or both.
Family Sukkot Celebration
in the TBB Sukkah
Sunday, October 1 | 10 :00 am
Congregation B'nai Brith Children's School (CBBCS)
CBBCS strives to create an environment that nurtures students' sense of who they are as people and as Jews — in a warm environment that welcomes their families as active participants in our Jewish community. Students study Jewish holidays, tikkun olam (social and environmental justice), culture, music, arts, prayer, Hebrew and Torah, while creating lasting friendships in a supportive school community. Learn more at cbbcs.org.
What Would You Like to See at TBB?
The TBB Families Working Group is working to build up ​a warm and welcoming community for kids of all ages and their grown-ups.
Have ideas? Want more info? New to TBB and want to say hi? Email tbbfamilies@gmail.com.

Family events and family Shabbat services made possible by CJP Community Impact Grant funds.
Fri, September 29 2023 14 Tishrei 5784