Welcome to Temple B'nai Brith in Somerville!
We are an independent egalitarian congregation. Our membership reflects the wide variety of choices people make in living Jewish lives, and we are respectful of those differences. We welcome all who care about enriching Jewish life in Somerville and surrounding towns.
Join us for Shabbat
Kabbalat Shabbat Services Online
every Friday 6:00-7:00 pm
Kabbalat Shabbat Services In Person Monthly Followed by Vegetarian Potluck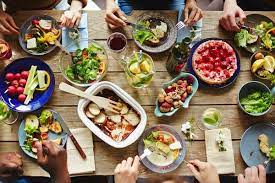 Monthly, next up is the Hanukkah potluck on Friday, December 8
Services at 6:00 pm in the sanctuary
Food served immediately after. RSVP here!
Shabbat Morning Services Online and in Person
every Saturday 9:30 am
Monthly Family and Tot Shabbat Services
Saturday, December 2
11:00 am
Join us for monthly Shabbat morning services for kids and their families (siblings of all ages are invited to join)! Tot service (best for ages 4 and under) and family service (best for school-aged children) will take place concurrently.
Family service will be in the Social Hall (on the Main Entrance level)
Tot service will be in the Chapel (on the lower level)
Community Kiddush will take place following the services at approximately 12pm.
Rabbi Eliana will alternate which service she is leading; December 2, Rabbi Eliana will be leading the family service (school-aged kids) and Seth, who leads the Nitzanim class at TBB, will be leading the tot service (4 and under)
Craft Fair
Sunday, December 3

1:00-5:00 pm
Chanukah gifts and more! Stop by to meet local artists, find gifts for friends and family, and enjoy a bake sale, raffle, and Chanukah craft. The raffle will have 3 prizes—each one comprised of a Jewish craft kit to do at home, and a gift certificate to a local Jewish-owned eatery! Register here for the event, and get 2 free raffle tickets. Additional tickets will be available for purchase.
Out of This World: Angels, Demons and Other Beings
Taught by Rabbi Eliana
Sunday mornings 12/3, 12/10, 12/17
10:00-11:30 am in person in Rabbi's study
Cost is $15 per session (registrants may choose to pay other amounts, or waive the fee)
Register here. If you plan to attend, please don't wait to register. Only those registered receive emails with important details including schedule changes. Classes also need a minimum number of registrations to be held as planned.
Judaism is replete with stories and traditions featuring all kinds of non-human entities that are often cataloged under the supposedly self-explanatory labels "angels" and "demons." But do Jews even believe in angels? And if so, why didn't they teach me about this in Sunday school? In this course, we will have a look at some of the less-known beings that populate Jewish texts beginning with the Torah. For example, we will learn about the archangels – Michael, Gabriel, Uriel, and Raphael – on the angelic side, and about Lilith and Asmodeus on the demonic side. We will have a look at how people attempted to protect themselves from demons and explore the Jewish concept of Satan and it's development through the ages. We will even answer the age-old question – what does Satan do on Shabbos?
You do not need to have attended the previous Out of This World class to come to this class, but if you attended the previous class and enjoyed it, chances are you'd like this one too.
Hanukkah Menorah Lighting at City Hall
Sunday, December 10

beginning at 5:00 pm
All members of the community are invited to join Rabbi Eliana, Mayor Ballantyne, and City staff on the City Hall Concourse.
Light refreshments will be served.
TBB Families
TBB in your Inbox
Want to connect with TBB by email? We have two ways!
Email tbb@templebnaibrith.org to start receiving emails directly from TBB about events and programs, as well as other TBB news and business.
Join our Google group to hear from your fellow members and friends of TBB or send the community a message yourself. (Discuss Somerville happenings, share other Jewish programs, arts, culture, ask if anyone knows a good dentist, etc.) Please click here to join our Google Group.
TBB on your Calendar
Did you know you can sync TBB's calendar to Google calendar, iPhone/iPad, or Outlook so that TBB calendar events automatically appear? Read step-by-step instructions here. Look for instructions from your app or device if you use another calendar.
Mon, December 4 2023 21 Kislev 5784